For candidates
Not sure where your dream job lies? You'll be hard pressed to find an industry that's as varied, growing, and exciting as the hospitality sector.
The hospitality sector is home to hundreds of different jobs that allow you to work towards different strengths, skills and abilities. Working with some of the leading names and multinational companies in this sector, we've got the vacancies and opportunities available for you to make a start on your career journey.
If you already know what you want, we'll work closely with you to ensure that you get it as quickly as possible.
Not sure what job is right for you? We'll help you figure it out.
We carry out empathy profiling, motivational mapping and occupational strength assessments. All of these are optional tests that allow us to get to know you better. They tell us exactly what kind of person you are, how you work and what passions, ambitions and dreams drive you. They also tell us where your unique skills and strengths lie – which will help direct us onto the perfect career path for you.
A career in hospitality isn't just about culinary skills.
It could be anything from a stock warehouse operative, a delivery or forklift driver or even a quality control manager. Or, if you've got the confidence, love interacting with other people and can't wait to get out there every single day, you might love a career in sales and marketing or at the front-of-house in a restaurant.
A career in the hospitality sector could take you anywhere. Find your perfect place by uploading your CV today.
Submit Your CV and Get Vacancies Sent To You
Looking for exciting and varied opportunities that work for you? We've got the perfect role waiting for you in the hospitality sector.

Whether you're looking at more traditional roles that place you in Front of House or in the fast paced environment of a Bar or you want to progress forward with a more challenging job as a Head Chef, there's a place for you. We're here to help you find it!
For employees
Whether you need temporary replacements, a part-time contract or a permanent worker to join your team, we'll find your perfect match. Different from any other recruitment agency, we'll always go the extra mile to find out what exactly your company needs to find the perfect fit for your vacancy. That's why we'll always come to visit your site and business, getting a complete feel of your business and the type of worker that you need.

In addition, we do a thorough check of our potential candidates, including Empathy Profiling, Motivational Mapping and an Occupational Strengths Assessment. This will help us find out how they get on with others, their motivations and goals with your company and what their skills and strengths are. With the information, we won't just supply someone who looks good on paper. We'll give you someone that has the skills and expertise to handle your role and the personality and aspirations that fit into your company and culture.
We provide all of this for cost-effective and competitive prices. If you hire our worker on a temporary basis, we'll charge an hourly rate for the hours you need. If you hire them permanently, we can offer competitive fees.

Taking the time to get things right is how we've achieved a 100% fulfilment rate. In a hurry? We also offer next-day placement services, so your business can carry on running as usual.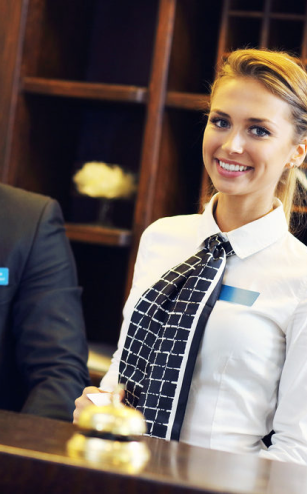 Hospitality vacancies
Responsive Personnel - 0623
Various
"RP have been supplying a regular team of Housekeepers to me and our busy venue. The staff are well presented and briefed on the roles in hand. RP are able to source additional candidates for peak periods and are always available when needed"
NR - Housekeeping Manager, South Cerney
"I have been using Responsive Personnel as my preferred temp agency for a couple of years and have found them to be very professional. Just recently I embarked on a very large campaign, where I required extra resource, and Responsive were very helpful in finding 18 temps for me. There were a few teething problems, but these were overcome and we had a very successful campaign."
J Townsend- HR/Office Co-ordinator , Scotts Ltd